CSCLA © Central & Southern Colorado Locksmith Association
All rights reserved. 2017




CSCLA - Gallery - Newsletters - Contact Us
Membership Application
Join our email list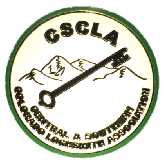 To sign up for the Servicing Aluminum Storefront Class
"Locksmith Training"
And it will take you to the online payment site Squareup.
It is a safe and secure way to pay, if you prefer you may pay at the door, We still need you to sign-up.
Certified ALOA Instructor
Learn about aluminum Store Fronts and Frames, as well as the hardware used. This will include door & frame construction, Locks, closer's, pivots and other hardware. It will be presented with an emphasis on installation, servicing, adjustments and retrofitting techniques. We will also be presenting ideas on how to improve security. There will be some "Hand-On" and will require you to bring some materials to class: Allen Wrenches and a set of screwdrivers.
Educational Class Info
Saturday - May 13, 2017
8am to 4:30pm
Lunch will be provided
Contact Info
Barry @ 303-550-5625
Email us: Education @cscla.info
Online Registration
www.cscla.info
Admission to the all day class
Coast $60.00
Per student
Online Registration
Our online registration will be open until May 12th at 10pm
You are welcome to register at the door the morning of the class.
www.CSCLA.info
Email
Education@cscla.info
Location of class
Racine's Locksmithing
239 S. Purcell Blvd.
Pueblo West, CO. 81007
Contact Us
Feel free to contact us at
Education@CSCLA.info
or
Barry (303) 550-5625
Handout will be included with the class, all students will have the option of receiving a discount on Jake Jakubuwski repair manual, "Aluminum Stile Door & Service Manual" for a reduced price of $100.
NOTE: Materials to bring to class
Allen Wrenches
Set of Screwdrivers
CSCLA STATEMENT OF
MISSION & PURPOSE

The mission and purpose is to encourage, promote, aid in and affect the voluntary interchange, among members of the CSCLA, of data, information, experience, ideas, knowledge, methods and techniques relating to the field of Locksmithing.


Central & Southern Colorado
Locksmith Association
Founded 1991
Sign up by clicking here and follow the link to our Credit Card processor, "SquareUp"
We use SquareUp to process our credit card transactions. Be sure you print out a copy and bring it to the class. If there is more than one of you coming from the same shop, one receipt for all the attendees is okay.
If you have any questions please call Barry (303)550-5625 or email us at Education@cscla.info